Plaster and water do not mix.
When you see drywall or plasterboard sagging or deforming, it's obvious that there is something wrong.
Most likely it is caused due to water, moisture or even insufficient fixing.
First  thing  is  to  assess  and  rectify  the  nature  of  the  problem  prior  to  repairing  drywall  plaster.
Water damaged drywall plaster must be removed as the water damages the paper and plaster causing drywall plaster to sag and deteriorate with the risk of falling to the ground creating a safety issue.
If it's a fixing problem, it's because of poor workmanship, there's not enough nails/screws / stud adhesive or simply wrong or too shorter clouts used which can be re-fixed without removing the existing drywall plaster if the sagging is minimal.
Use manufacturer's specifications to ensure correct methods of fixing Drywall/Plasterboard.
Equipment required,
plaster trowels (blade and joint knives),  key hole saw, tape measure, chalk line or straight edge, plasterer's-drywall square, 30mm. pan head drywall screws and screw gun or pan head drywall clouts (I prefer screws and screw gun), hammer, ladders, stanley knife sanding block or sanding float with sand paper, brush. Builder"s nail pouch will be handy to carry your tools on you.
Materials required;
cornice adhesive plaster (cornice cement); topping coat; drywall – plasterboard sheet enough for damaged area and "back-blocking" strips
This repair requires more experience but with the aid of my other step by step "how to" videos tips you'll see that the repairs are executed the same way.
I suggest you use this website as learning course and start with tips on repairing holes from smallest to large to get a full understanding of the principles and tips.
Now view videos (parts one and two) for tips on repairing drywall plaster for ceilings.
Same principle applied to walls.
TIP:- Keep a piece of cut out plasterboard as a sample for colour matching at the paint shop.
Part One;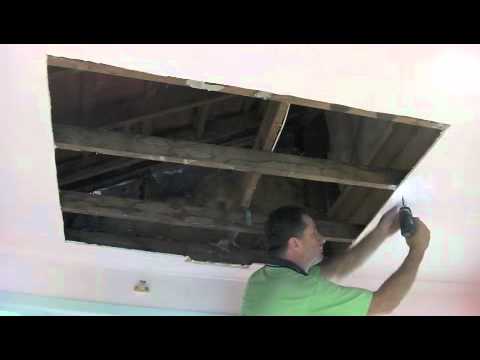 Part Two;